"Building Cubist element upon Cubist element, Dengate doesn't waste a single line, curve, or pigment. And using sprays of lighter rectilinear cubes and rectangles to depict stray diagonals of light, he fleshes out striking tableaus whose colors create the impression of spatial depth."

— JOHN CARLOS CANTU

Read the full review here:

http://www.annarbor.com/entertainment/umhs-dengate/
OO

A Recent Commission


Recent Works

Six Great Lakes Sketches

ABOVE, Top Row, L to R: "Creek and Dune, Lake Michigan" 8" x 10" Oil on Wood Panel, $150. "Dune Top, Lake Michigan" 8" x 10" Oil on Wood Panel (Sold). "Isle Royale Shoreline, Lake Superior" 8" x 10" Oil on Wood Panel, $150.
Bottom Row, L to R: "Approaching Storm Near Pentwater" 8" x 10" Oil on Wood Panel, $150. "Pictured Rocks, Lake Superior" 8" x 10" Oil on Wood Panel, $150. "White Pine and Dune, Lake MIchigan" 8" x 10" Oil on Wood Panel, (Sold).

"Sailboat and Signal Flags"

"Coral Reef"


A Corporate Installation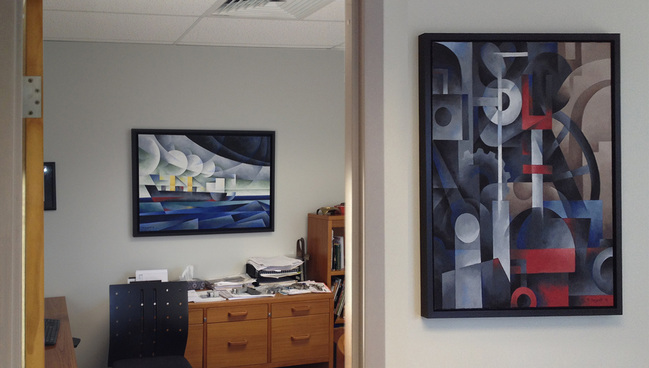 Two paintings in the offices of Tritec Associates, an international machine import and service business in Virginia.
About the Artist



I was born in 1960 and live in southeast Michigan. In college, I first studied biology, then switched to a study of art. In 1984 I earned a BFA from Wayne State University in Detroit. For several years I worked in a realist style, but looking for new creative challenges in 2010, I began an exploration of less representational modes of visual expression.

I call much of this work cubist, in that it's composed of intersecting geometric shapes which describe planes and forms. These forms result in abstracted, yet recognizable, images.

Working this way has freed me from the constraints of accurate perspective and color—and instead use repetitive shapes and what one might call "migrating color" to depict a landscape or a collection of objects, to tell a "story." The Cubist movement, as first developed in Europe by

Georges Braque, Juan Gris, and Pablo Picasso, lasted but a relatively short time in the early 20th Century. It had, however, a profound impact on much of the art that followed, and its influence can be found in much of the imagery we see today

.

I am also influenced by such movements as Futurism, Orphism, Fauvism, and Expressionism. The works of Robert Delaunay, Lyonel Feininger, Erich Heckel, Franz Marc, and Heinrich Campendock serve as inspirations.
Collections and Publications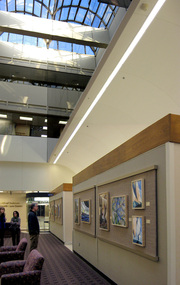 Collectors in the United States, Canada, Germany, Japan, Austria, and France own my work,
as do commercial and academic institutions.
My paintings and woodcuts have appeared in a number of exhibits, primarily in Michigan and Ontario. My work has also appeared in numerous
publications in the U.S., Canada, and in Europe.
For more information, see the
BACKGROUND
page.
Unless otherwise noted, all the work appearing here is for sale.
Prices listed are in US Dollars and do not include shipping costs.
Payment can be made through PayPal.
---
Paintings & Woodcuts by Patrick Dengate • Pinturas y Grabados en Madera por Patrick Dengate
Gemälde und Holzschnitte von Patrick Dengate • Peintures et Gravures sur Bois par Patrick Dengate